your garage
Your garage is your kingdom! You love retreating there and working on your projects. Maybe you're fixing up an old car or completing a woodworking project. While your wife and kids run errands on the weekends, you relax with your favorite projects.
Maybe your friends come over for a few beers on a Saturday night. You hang out in your garage in a few old chairs and a TV. You solve the world's problems late into the night. Once you have finished your weekend work, nothing is better than relaxing with your friends. So, what's missing?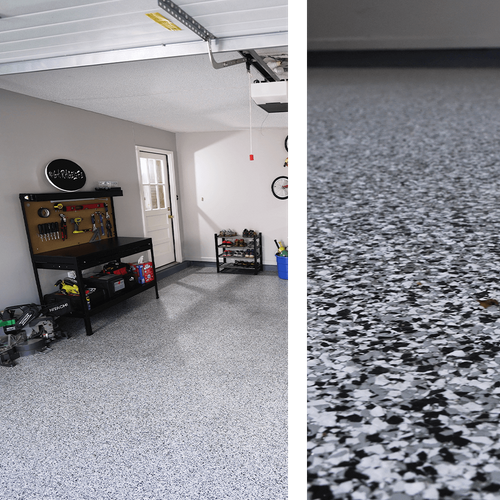 A GREAT GARAGE FLOOR
You've noticed that when your guy friends drop food or drink on your current concrete flooring, it's tough to get up.

Your garage flooring has stains from your many projects.

Your garage floor is dull and boring.

Your garage flooring has some chips from when you dropped tools on it.

Your garage floor has a few unsightly cracks.

THE SOLUTION: AN EPOXY GARAGE FLOOR COATING
Wait, you've thought of this before. An epoxy garage floor coating would solve all of your problems. The benefits of epoxy flooring are legendary:
Extremely durable

Easy maintenance

Resistant to staining

Easy to clean

Offers a shiny finish that looks great

Resists damage

Hard to chip and crack

Eco-friendly material

Resists mold and bacteria

Customizable to your exact needs

And the list goes on
BUT, epoxy flooring can be expensive and hard to install. So, now what?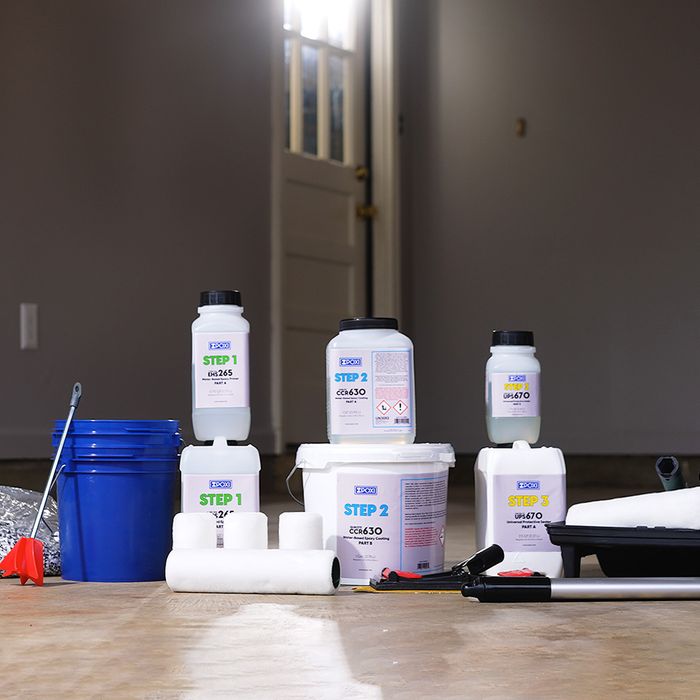 ENTER THE IPOXI SYSTEM BY STAUF
The team at STAUF has designed a DIY, commercial-grade epoxy flooring solution that is easy to do, affordable, and can be completed in one weekend. Our team of research and development scientists have crafted a DIY epoxy flooring product that will meet the demands of every garage owner who wants a nice space to call their own.
WE'VE ELIMINATED EVERY HURDLE
Our team understands that installing a garage floor coating can sound intimidating, and you want to make sure everything runs smoothly. Well, you have nothing to worry about because we've eliminated every hurdle you could think of.
The steps are uncomplicated.

1. Prep & Prime: Simply fix your cracks and sand/grind the floor and now you're ready to roll your primer.

2. Roll & Throw: Roll out the base coat and sprinkle the flakes. Couldn't be easier.

3. Coat & Done: Your top coat seals in the magic and gives your beautiful epoxy floor finish.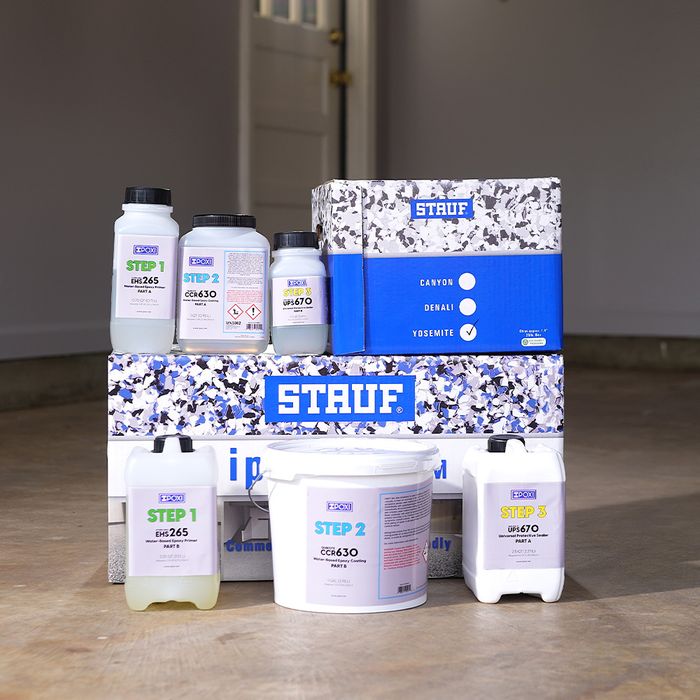 What's In Our IPOXI Kits?
Each kit is designed to coat up to 225 square feet and includes enough for a full flake broadcast.
25 lbs of 1/4" Flakes

Water-based Epoxy Primer

Tinted Water-based Epoxy Bond Coat

Urethane Top Coat

Detailed Application Instruction Cards

Supply and Material Sheet

Tools: (1) Plastic Tray, (2) Mixing Bucket, (3) Brush, (3) 4" and 9" Roller Cover, (1) 4" and 9" Roller Frame, (1) Mixing Paddle, (1) Attachment Pole, (1) Sanding Block, and (1) Sandpaper.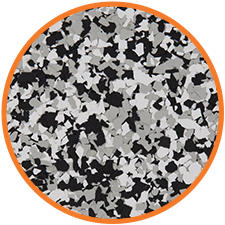 Yosemite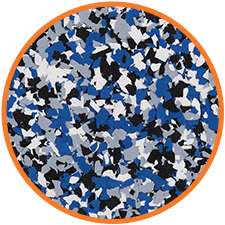 Denali
Canyon

Commercial-Grade Products





Only the Best Products & Ingredients



The Garage Life Community
Subscribe today for tips, tricks and inspiration! Live the garage life.
Professional Epoxy Flooring
So, what are you waiting for? Don't settle for a dull concrete floor any longer. You have the opportunity to impress your friends with a new epoxy floor from IPOXI that looks great and comes with unique benefits. In addition, you'll add value to your garage space and your home. What could be better?
With the IPOXI System, you are just one weekend away from a professional epoxy floor that your friends will admire and that you'll love for years to come.